In a campaign designed to raise support and awareness for Taiwanese independence, Taiwan citizens are covering up the words "Republic of China" on the cover to their passport with stickers that say "Republic of Taiwan" instead. And to make the alterations look official, the stickers feature the same colors and font as the passport itself.
The stickers also replace the sun symbol, as seen on the self-governed island's flag, with other symbols indicative of Taiwanese culture including Yunshan mountain, Formosa black bears and pro-democracy activist Cheng Nan-jung (seen below).
Officially, Taiwan is known as the Republic of China, a term used when the Kuomintang ruled China. The KMT kept the name when it fled to the island after China's civil war, which saw the Communist Party found New China in 1949. But as Mainland China and Taiwan have grown separately over the past 65 years, more Taiwanese want to end any association with China.
So far, authorities around the world have had no problem accepting these modified passports. According to online comments, 22 countries including the US, UK, Japan, Singapore, Germany, and even China have allowed entry to Taiwan citizens using these modified passports. However, one netizen said she was forced by a Hong Kong customs agent to remove the stickers.
Denis Chen, the designer of the stickers, said the objective of the campaign is to redefine Taiwan's national identity by pointing out the absurdity of the name "Republic of China" and encouraging people to think about Taiwan's political future.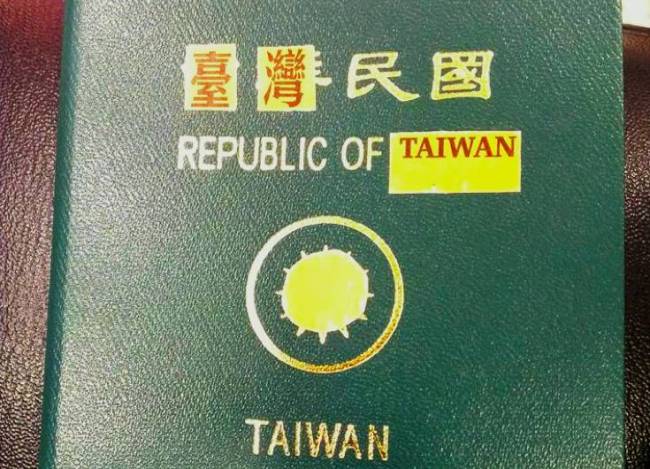 Chen was inspired to mount the campaign after an activist friend of his named Yanshi Ko crudely altered his own passport to read "Republic of Taiwan" (seen above), and subsequently used it to enter Australia.
Taiwan's government is divided in their response to the controversy. Taiwan's foreign minister urged its citizens not to alter their passports, warning that this may result in visa denials and undermine the credibility of Taiwan passports. However, Taiwan's immigration minister has said that altering the cover of the passport should not cause any problems so long as its contents are left undisturbed.