A slick viral video has been released to coincide with Chinese President Xi Jinping's state visit to the United States that asks its Chinese viewers to continue to invest in US businesses in order to maintain the coveted "Made in the USA" label rather than export jobs overseas.
Titled When China Met Carolina, the message to Chinese audiences is very clear: let's put aside our differences in order to do business and prosper, a message that foreign merchants have been bringing to China for some time now.
While it appears the message comes from ordinary people telling personal anecdotes, a number of techniques are used to make it more persuasive than it first appears.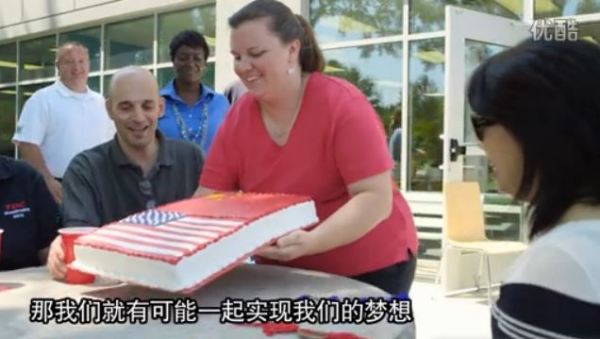 First of all, the title of the video is a Chinese cultural reference that has gone on to serve as a way to bridge two different cultures. Coming to prominence as the Chinese name of the Tang Wei rom-com vehicle Finding Mr Right, this simple English sentence construction has been commonly used in articles about Xi's visit to the USA, written as "When Beijing Met Seattle".
Much of the video attempts to circumvent any culture gaps by sticking to a simple script that repeats the same ideas over and over again, like "family", and "values". And while the translation tends to err on the generous side of things, that also serves as one of the most appealing aspects to Chinese viewers. In the mostly positive comments to the video, the most common remark after "What is the name of the song playing in the background?" is "The subtitles are so cute!" The subtitles are filled with current Chinese internet phrases that are more associated with teenagers than a propaganda video, like "totes" or "on fleek".
Something else to keep in mind is that even though the Chinese public has been innundated with this type of messaging, much of the visual vocabulary uses the same imagery as usual Chinese propaganda. In the same way, the video uses a number of subtle details to make itself more appealing to Chinese audiences.
For example, the familiar image in Chinese propaganda of a overweight middle-aged Chinese man wearing drab clothes accessorized by an enormous gold watch is likewise seen here in this video visually exerting his power to underlings by pointing, possibly towards a horizon that will bring a better tomorrow: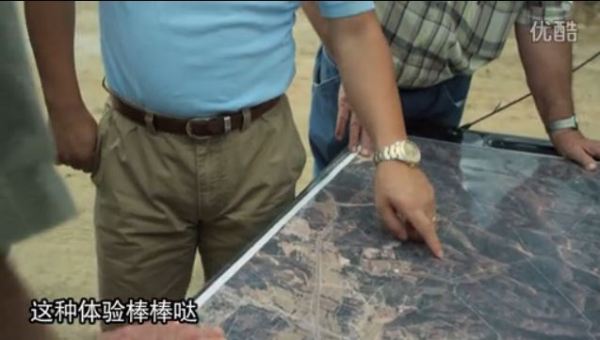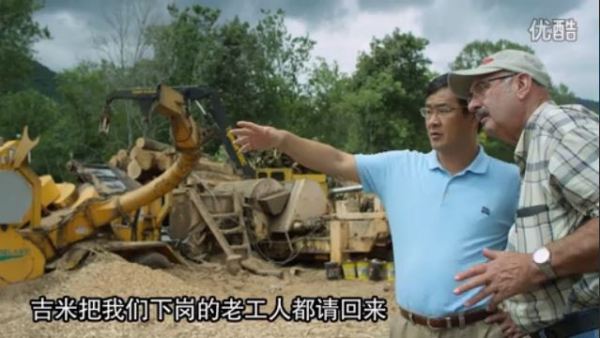 If calling someone your "brother" is too straight-forward for you, putting a hand on their shoulder is a quick way to show solidarity with a comrade:
And if you find the video is too subtle in suggesting the two countries should work together in order to enjoy the fruits of their combined efforts, the video ends with the serving of a cake decorated with the two flags of China and the USA (with China on top) that will be cut up and mutually enjoyed by all: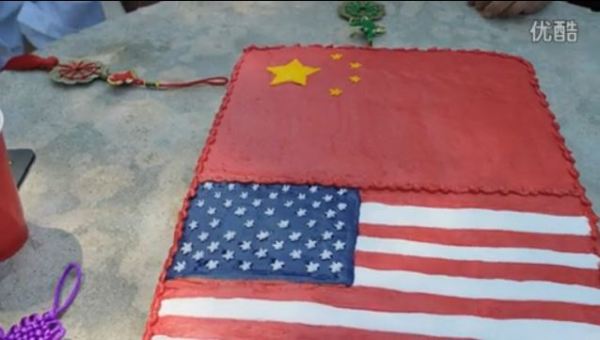 The video has gone viral in China, but has it been successful in getting its message across? Here's a smattering of comments from the video's Youku page, with many bordering on the nationalistic side of things:
一山一世界44573505 :
Chairman Xi should bring back advanced US technology to China after his visit to the USA.

中庸的人是我:
Hatred and war can only bring pain and tragedy.

维言17:
The translation is so cute.

白梧影视:
The subtitles are so cute. Hahaha, bangbangda! So there are localized Chinese versions of English.

Y_Y伱丫啊:
Chinese are civilized, polite and don't wear make-up.

七月的雷:
Every Chinese person has a great dream for the nation. We need to develop and strengthen ourselves. We don't need too much (of anything), just not for us to get oppressed again. Let's go, China!

division:
You need to pay to go to a US university? Have I been duped?

红宝石碎片:
So it appears the US imperialists are also looking to develop themselves.

这看看那看看:
I'm guessing the next century will completely belong to China.

超凡小h (responding to above):
Look at what's happening now.

王玉文341221:
Yeah! China will continually get better!

kevinguer:
Earthlings in fact belong to the same family. One big family.

新锐导演:
This is a foreign directed film…

小城大爱79185390:
No matter what, I love China.

chang11111:
China has written records going back 3,000 years… And now 3,000 years later, China is the strongest country in the world… In the future, the mighty China will continue to be the strongest in the world…

Way to go, China! Way to go, Chinese!

神VS侠:
The friendship and cooperation between China and the USA is much to the benefit of everyone!
Here's the video on Youtube, where it has racked up 123,000 views over five days:
And here it is on Youku, where it received 1.5 million views within three days:
If you find that you can't get enough of this video, the company that made it also did others that may appeal to you. Revival Road Workshop also made the "Chinese Dream" propaganda video that told its viewers in all-caps "THE COMMUNIST PARTY OF CHINA IS WITH YOU ALONG THE WAY".